Norwegian Special Mission AS (NSM) is based on a solid foundation of experienced management and aviation professionals. We are a private limited company with 100% Norwegian owners, with Sundt AS as the main investor, devoted to a long term and stable operation. We build on a long Norwegian tradition participating actively in the aviation society to develop advanced, reliable and cost efficient special airborne mission solutions for Flight Inspection and Airborne Surveillance.
NSM is conveniently co-located with Sundt Air at Oslo international airport, facilitating optimal utilization of recourses in the group. The Sundt Air building provides modern office facilities with direct access to well-equipped aircraft modification and maintenance facilities in our hangar.
The team of engineers at NSM is among the most experienced aviation, surveillance and flight inspection professional's worldwide. The company's core is strategically built on the human capital. We continuously encourage and develop our knowledge and experience, working closely together with our customers.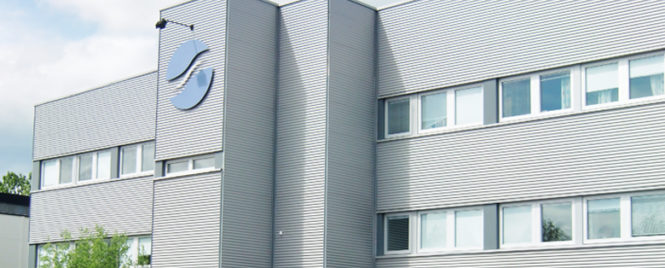 Our name is our game
We are determined to provide the best possible solutions for airborne special missions. We are flexible and devoted to tailor our products and services to the customer's detailed and specific requirements. We have established an innovative organization and co-operation with strategic partners. Fresh thinking and modern concepts throughout are employed to eliminate cost driving factors. We are confident that we can offer the highest value at the most competitive cost.
Both the UNIFIS 3000 Flight Inspection System and the SEAHUNTER 8000 Airborne Surveillance System are by design optimized for efficient operation and to serve as powerful mission systems to cope with the most demanding calibration and surveillance operation. Our products have modern design where nothing has been compromised to develop the ultimate for its mission. Combining strategic partners and a strong group of corporate companies we can offer unique turn-key solutions to the market.
We can supply equipment and services, exceeding your expectations on product quality and functionality. Should you need a partner for complete delivery of aircraft, equipment, modification and certification; the joint forces of the companies in the Sundt Group have all the products, capabilities and financial strength to be your safe and reliable turn-key supplier of Special Mission aircraft.
NSM Turn Key Special Mission Solutions
Norwegian Special Mission offers a wide variety of Turn Key support and services
Prime Bidder & Contractor
Aircraft Procurement
NSM UNIFIS 3000
NSM SeaHunter 8000
NSM Remote Sensing
NSM Airborne Laboratory
Aircraft modification
Certification
Training
Logistic Support Services
NSM USA
Office address: 1201 Wilson Blvd, Floor 27
Arlington VA 22209
Email : erik.togersen(at)nsm.aero
Phone: +1 (804) 495 8486
NSM India
NSM India is headed by Mr. Priyad Kulkarni.
He is responsible for sales for Special Mission Projects in S.A.A.R.C, Middle East & CIS countries and is also responsible for NSM India Liaison Office.
He has an extensive experience in Aviation from Aerostructures, Helicopter sales as we as Special Mission Aircraft Sales and Project Management and has till date experience of over 17 years and been working for Norwegian Special Mission AS since 2012.
Previously he has worked for AIRBUS, Hawker Beechcraft, Eurocopter and Aircraft Manufacturing Company in India
Priyad A Kulkarni has earned a B.Eng (ELECTRICAL ENGG) from C.O.E.P, Pune and a Master of Business Administration (Marketing) from Pune University and also Master of Aerospace Management (Ae M.B.A) from Toulouse Business School, Toulouse, France.
Contact information : Pku (at) nsm.aero
NSM Worldwide
NSM is engaged in sales and support worldwide. We work through a network of sales representatives, resellers, local technical representatives, local employees or consultants.
Please use our contact form at the top of this page for any enquiry.
Aerospace Quality Management System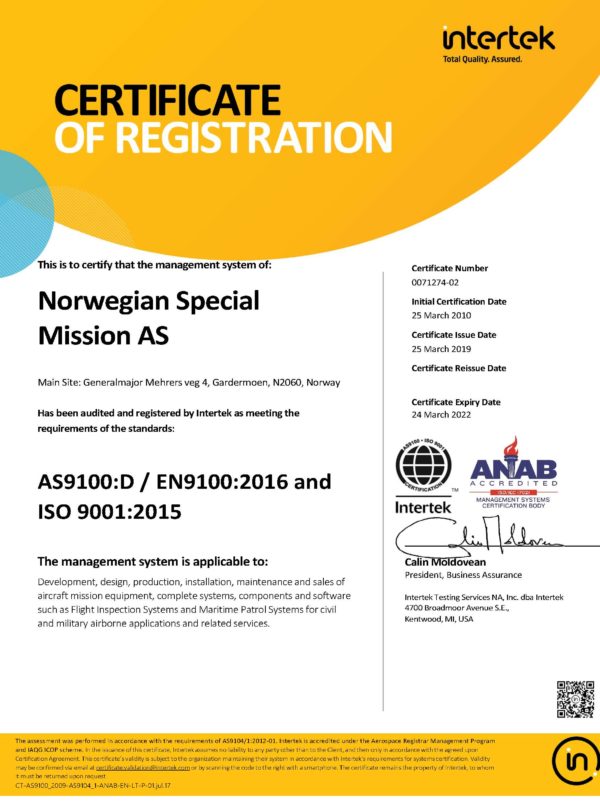 EASA Production Organization Approval
Parts and Appliance production are complex work, which requires qualified personnel and facilities suitable for the purpose. Norwegian Special Mission (NSM) is in compliance with EASA Part-21 Subpart G POA.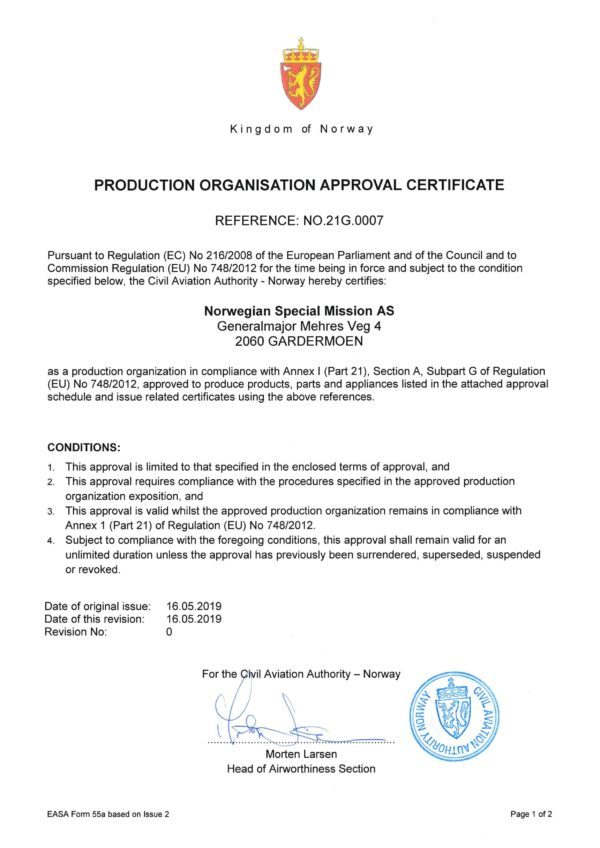 Åpenhetsloven (Norwegian only)
Åpenhetsloven skal fremme virksomheters respekt for menneskerettigheter og anstendige arbeidsforhold, samt sikre allmenheten tilgang på informasjon. Hvordan Norwegian Special Mission har ivaretatt Åpenhetsloven er redegjort i dette dokumentet.